Taking Salesforce Beyond CRM – The App Cloud
Taking Salesforce Beyond CRM – The App Cloud
Salesforce.com is without a doubt the leading CRM software solution in the world. Salesforce.com is also one of the fastest growing software companies of our age and that growth curve is not going to plateau any time soon. The reason for such growth is not just because it's a great CRM, , but also because it has cultivated a community of expert who share their knowledge of salesforce.com with other users, it offers an expansive library of training resources, it has world-class product support, and most importantly it has highly reliable and secure infrastructure.
There is also another important reason for Salesforce.com's growth these days, one that is taking Salesforce.com beyond CRM and establishing it as a major enterprise grade software platform for today's enterprises. It is none other than it's very own core platform offering – Force.com, also known as the App Cloud.
Somewhere towards the end of 2008 Salesforce.com embarked on a mission to extend its SaaS offering beyond just CRM. By this time customers and partners were already building non-CRM apps to satisfy the ever growing demands of their business teams. Every company had some version of an expense management app, field service app, invoicing and ordering app only because the Salesforce platform provided a quick to create and quick to deploy tool set that many competing software vendors did not provide.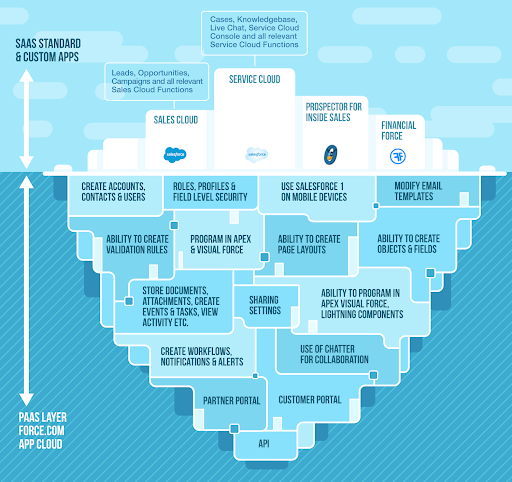 Salesforce.com anticipated that over the coming years, significantly more companies will adopt Salesforce.com—not just because it's a powerful CRM tool, but also because it has the ability to be a platform with great flexibility and scalability and has the ability to host apps and solutions that go beyond CRM. To test this vision out, Salesforce.com carved out Force.com and its App Cloud as an independent offering and significantly invested in the independent software vendor program that encouraged its partners to develop non-CRM applications on the Force.com platform and made them available through the AppExchange… it's strategy succeeded! Today, hundreds of non-CRM apps have been developed worldwide to automate complex business operations and benefit Salesforce.com customers on the App Cloud taking Salesforce beyond CRM.
A little more about Force.com / The App Cloud of Salesforce.com
Force.com or the App Cloud by Salesforce.com is the commercially available Platform as a service (PaaS), used by Salesforce.com customers and partners to develop business applications, allowing them to meet specific business needs. It is also the platform on which the CRM apps like Sales Cloud and Service Cloud have been developed by Salesforce itself.
For those not familiar with the Platform as a Service (PaaS) concept, the closest analogy would be to consider the platform as the operating system of a computer or a smart phone like iOS or Android but the difference being that this operating system is not available locally on the device and accessible only via a client browser or an API connected to the internet. In other words, an operating platform remotely accessible via the internet. Such a platform comes complete with
1. A database or data store
2. Workflow automation engine
3. Notification and alerts engine
4. A Configurable User Interface
5. The Latest Security Model
6. An application programming interface (API) and many other components.
This type of a platform provides the ability to create users, assign them different security privileges (either as a group or individually), and allows them to program and create apps or use apps developed on the operating platform. The platform provider usually operates with a pay-as-you-go model, charging by the number of users or the amount of resources being used at any given time which is highly advantageous because it greatly reduces the total investment.
required by any individual or organization looking to leverage such a platform and divides it up between all the users. Hence using such a platform one can either develop software for personal use or publish and sell an app commercially.
Applications developed on a PaaS platform are usually termed as – Software as a Service (SaaS) like Sales Cloud and Service Cloud which are standard apps offered by Salesforce.com or apps like Conga and FinancialForce for PSA management that are custom apps developed on the Force.com platform. Unlike PaaS that provides the foundational operating platform to build apps on, SaaS apps solve common business problems for end users just like account management, contact management, lead automation or inside sales automation.
What does the App Cloud have to do with taking Salesforce.com beyond CRM?
High-growth organizations have adopted Salesforce.com as a trusted CRM for over a decade. Over the past few years, Salesforce.com has continued to evolve as expert partners have built (and users have installed and utilized) non-CRM business support applications on the App Cloud—otherwise known as the Force.com platform. Users are able to purchase such applications from the Salesforce.com AppExchange or build their own apps using intuitive clicks rather than code in a relatively easy fashion.
For example, take The FinancialForce PSA app— It's an easy to use app used for accounting and professional services management. Such apps extend Salesforce.com beyond the standard CRM functionality and this is made possible because Salesforce.com has enabled its community of professionals, partners, and customers to leverage the Force.com App Cloud platform as a core PaaS offering and a fraction of the cost of standard CRM licenses. The Force.com Platform opens up creative possibilities to expand Salesforce.com to best fit individual customers' non-CRM business and has ensured that Salesforce.com the company can grow beyond CRM not just by acquisition but also based on it's own product offerings.
What motivates high growth companies to choose Salesforce.com as an enterprise platform and not just as a CRM?
Low development costs, shorter app build times, and low maintenance costs make Force.com a great alternative to more common development environments, especially for lean organizations and those focused on high growth. Most high-growth companies often contract out their products, services, and solutions that are not part of the core business model to external parties, while they focus only on items that are essential to the core business goals. These companies usually have a high affinity for platforms like Force.com that enable them to contract out the infrastructure, hardware, operating system, and data center components to Salesforce.com. In the meantime, they can focus on building their business efficiently by either purchasing commercial apps via the AppExchange or developing essential apps on this platform without having to worry about maintaining an army of IT resources.
It does not matter how big or small a business is—they can all benefit from the Salesforce.com App Cloud. The PaaS platform effectively speeds up the growth trajectory of companies because the leadership does not have to worry about common technological impediments to business growth.
Gartner's famous quadrant depicts Salesforce.com as an industry leader in the platform as a service space—and rightly so. When leveraged to its full capacity, this platform provides unfathomable benefits to organizations that adopt it—not just for their CRM, but for all capabilities above and beyond.
To sum it all up, Salesforce.com under the leadership of it's CEO and management and with the help of it's ISV app partners has indeed moved beyond being just a CRM provider and transformed into a true enterprise cloud computing company offering a multitude of solutions on one homogeneous platform Force.com.
About Forsyth Software
Forsyth Software is a trusted Salesforce.com consulting partner that assists high-growth companies with business automation needs. If you are a high-growth company looking to understand more about the Salesforce.com platform, or are looking for software solutions to improve operational efficiency, Forsyth Software can help. Contact us today at (866) 876-0227 or send us an email at [email protected] for more information.
At Forsyth Software, we specialize in Salesforce.com CRM services, mobile apps development and data integration services. We recognize that every customer has unique business challenges and we work hand in hand to overcome those challenges with them. We provide services in the following areas –
General Software Support : We work with IT and Operational teams to support, maintain and enhance IT applications like Salesforce, Monday.com, Zoho, Workday, ERP System as well as custom applications developed using PHP, DotNet, Java and a host of other technologies.
Salesforce Implementations : Forsyth Software can set up and implement various Salesforce.com Clouds like the Sales Cloud, Service Cloud, Marketing Cloud, CPQ, Analytics, Tableau for your sales and support teams. Call us today to get a demonstration of Salesforce to see if it fits your needs.
Mobile Apps Development : We provide support, maintenance and enhancement services for Android and iOS mobile Apps as well as mobile web apps.
Data Integration Services: Our team can help integrate software systems using point to point or centralized data connectors, using tools like Mulesoft, Dell Boomi, JitterBit and SSIS. If you would like to connect and transact data between systems then contact us to get an analysis done.
Contact Forsyth Software at (866) 876 0227 or [email protected] to discuss your specific needs and get a free estimate.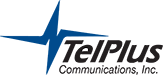 The Business Challenge: TelPlus a managed services company based out of Atlanta was looking for a new vendor to take over it's Salesforce.com CRM and help improve it's performance. The original implementation of Salesforce.com were not completely successful, TelPlus was looking for a trusted partner to work collaboratively on improving the performance, usability and adoption of both Salesforce applications within their call center.
Our Approach: The Forsyth Software Services team worked with the internal IT and business groups, shadowing call center agents and back office users or Salesforce.com. They Proposed a three step approach to improving usability and increasing adoption through simplification of the call center applications. would become and integral part of their operations infrastructure
The Outcome: The solution implementation resulted in a three-fold increase in adoption of Salesforce.com along with improved customer retention and customer satisfaction scores for TelPlus.

The Business Challenge: The original purpose for DAIKIN needing the services of Forsyth Software Services was to help with a Salesforce.com training seminar. With time this transformed into management providing insights into the challenges faced with professional services project management tracking and project accounting.
Our Approach: Forsyth Software Services identified and implemented the AgilePMO salesforce.com based PSA solution which includes all aspects of project tracking like task tracking, project team member tracking, scheduling, time tracking and project accounting.
The Outcome: The solution implementation resulted in a three-fold increase in adoption of Salesforce.com an overall increase in revenue tracking and project billing since a lot of the tasks that were previously accomplished via complex excel were automated within Salesforce.com.
"We were able to speed up product and design and delivery while reducing our costs. Forsyth Software has been hands down the best vendor decision my team has made."
"They have high-quality resources who are willing to go the extra mile to provide value in development."
"Working with this company has been one of the best decisions that we have made. Our call handling times have gone down with the automation built by Forsyth Software."